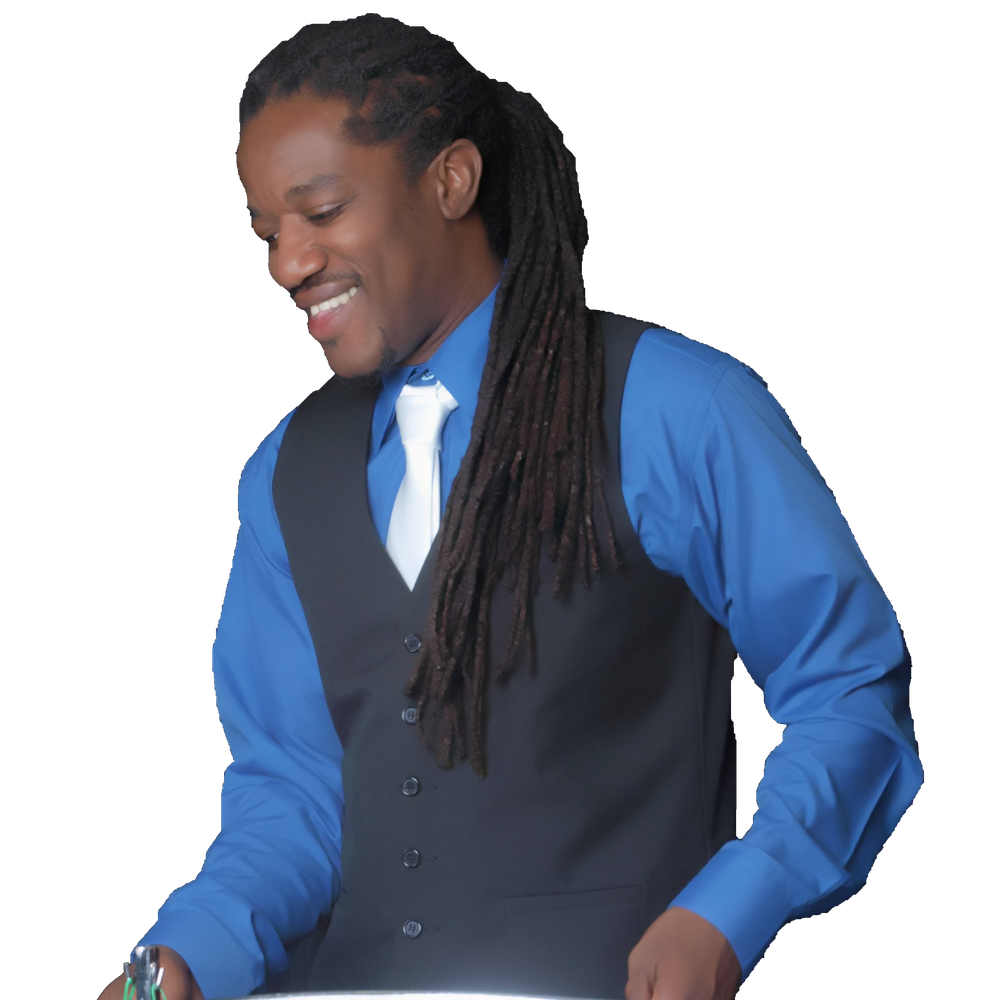 DEVON 'DAPANIST' ATHERLEY
Born and raised in the twin-island republic of Trinidad & Tobago, Devon 'daPanist' Atherley, knew steelpan before he knew himself. Coming from a family big in number and soul, daPanist knew love, patience and boundless happiness, feelings he knew one day he would convey through art and music to the multitudes. At the age of 8, the 'Coffee Boys' student had his first exposure to a live steelband, instigating his 20-year career as a pannist. By the age of 16, now attending Pleasantville Senior Comprehensive (High School), he sort out the steel band as a way to channel his creative energies and stay out of trouble and joined the Pleasantville Kalomo Kings Steel Orchestra. After two months he was 'on the road' with the band, a legendary achievement at that time. Within two years of playing for Kalomo Kings, he simultaneously co-established San Fernando West Secondary's first steel orchestra, inaugurating a new chapter filled with arranging and teaching steelpan. 
In 1996, the same year his band cracked Panorama Finals, daPanist decided to take his career beyond the borders of his beloved island, professionally touring the world as a cruise ship entertainer for a number of years. He then saw the opportunity to take his music to the Caribbean diaspora residing in and around New York City whilst permeating a new market brimming with persons who have never been to the islands but possess a curiosity for the experience.  
At the dawn of the new millennia the musician took a giant leap of faith by moving to the US permanently. Settling in New Jersey he began honing his skills as a keyboardist and record producer. Making a name for himself as a go to Reggae and steel pan musician around the 'Jersey Shore'. Performing opening acts for the top touring international reggae acts and recording at the legendary Shore Fire Recording Studios producing records for his band Random Test, as well as the Groove Shack ( now Crown Town) and A-Town record labels.
Currently Devon 'daPanist' makes up one half of the dynamic duo DNA's Music. A full blown musical entity, he and his partner vocalist Athenia Henderson provides the musical soundtrack for high end, high energy clubs, festivals, corporate events and weddings, and  varying events that requires top quality sound and entertainment in the NY tristate and nation wide. He is also the resident steel pan instructor for Oasis Steel Orchestra, New Jersey's premier steel band.
 DaPanist's cool and composed character is replaced by a master conductor in charge of his instrument, amplifying the electric atmosphere. Being a versed Panist, Keyboardist, Music Producer, Instructor, DJ and Audio Engineer doesn't make daPanist a "jack of all trades" but certainly a master in the fields he pursue. His performance and record speaks to that, making him an asset to his collaborators and any organization he associate with.